MikuMikuDance
is a free 3D animation software developed as a promotional element for fans of the Sony/Sega Vocaloid product. Featuring a high-style Japanese feel, MikuMikuDance has caught-on around the globe with tens of thousands of users and millions of MMD videos uploaded world-wide. The MMD program was introduced in Japan about 2007, without an English translation until 2010. The Japanese MMD Community is very strong and very active. They created a masterful collection of models, accessories and techniques for which all users today are most grateful!
Download MikuMikuDance using either one of the buttons below. If you have 32-bit Windows, click the first button, if you have 64-bit Windows, click the button that says "64-bit"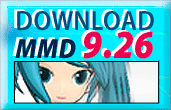 |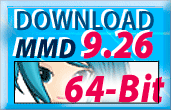 Please note that you NEED to have latest Microsoft Updates installed plus at least DirectX 9 to make MikuMikuDance work. Otherwise you will keep getting errors. Download DirectX 9 here: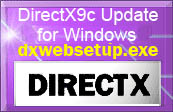 If you get the "Cannot find MMDxShow.dll" error while launching MikuMikuDance v9.26, please download the following .zip file fix and put the contents in the folder where your "MikuMikuDance.exe" is located.
For 32-bit Windows:

For 64-bit Windows:

Source:
http://learnmmd.com/downloads/